Configure your domain on Cloudflare
How to connect your domain on Cloudflare to Easol
Before you begin, login to your Cloudflare account, find the domain you want to point to your site on Easol and go to DNS (domain name system).
Create new CNAME record
In your domain's DNS, click Add a new record with the following settings:
Enter your route domain as

www
Select type CNAME
Enter your domain as the name (i.e. yourdomain.com)
Now press save and you should see your new configuration added to the list of records.
Configure site redirect
Next, you'll need to set up a redirect from naked domain (i.e. yourdomain.com) to your domain with www.
To do this set up a DNS record for @, set to
. Enter 192.0.2.1 as the IP address. It should look like this:

Then, create a page rule for the redirect. It should look like this: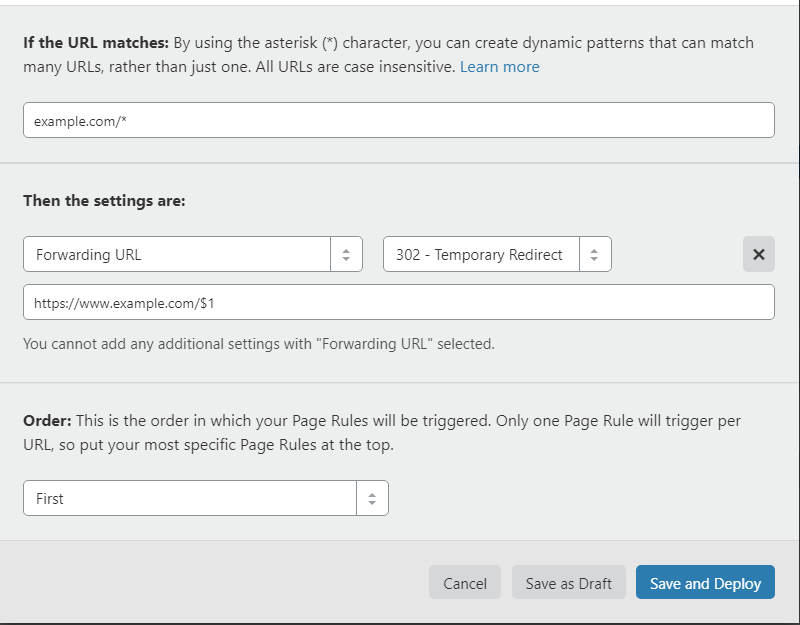 Add your domain to Easol
Log in to your Easol admin dashboard and go to My site > Site Settings > Domain. Enter your domain name (www.yourdomain.com) under Custom Domain. Do not include the https prefix. Click Save to publish changes.
Note that a free SSL certificate will be applied automatically.