Integrate Mailchimp with your signup forms
Integrating Mailchimp with your website forms will allow you to automatically add new contacts to a Mailchimp list when people sign up.
Before you start, make sure you have a Mailchimp account. If you don't have one yet, you can create a new account for free. You will also need to make sure that your website theme supports blocks with Mailchimp integration and that the block has been added to your website.
Theme blocks that support Mailchimp integration
Theme name
Blocks with Mailchimp Integration
Alchemist
Mailchimp
Landing Page
Popup
Vagabond
Sign up
How to integrate Mailchimp with signup forms
1. Log into your Mailchimp account, click the Audience icon and go to Audience Dashboard.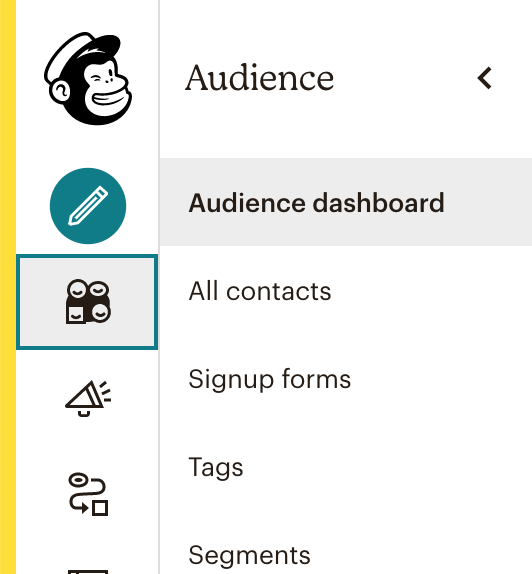 2. If you have more than one audience, click the Current audience drop-down and choose the list you want your signup form to integrate with.
3. Click the Manage Audience drop-down and choose Signup forms.
4. Select Embedded forms
5. Scroll down to the Copy/paste onto your site section of the page. Within this code, copy the URL inside <form action="URL">. For example: <form action="https://yourcompany.us11.list-manage.com/subscribe/post?u=f5d8e779a9ef4bf56908a5178&amp;id=cdee62a635"...>

6. Return to your Easol dashboard, go to Site and select a page. Locate the block that supports Mailchimp integration or add one to a page.
7. Paste the URL into the Mailchimp form action field. Click Save.
Your signup form is now integrated with Mailchimp. We recommend testing the form and then checking your audience list in Mailchimp.